Ready to save hours scouring the internet for new visual content for your business?
Your intentional online business is ready for a makeover because the Mini Membership is calling your name and it has fresh images, done-for-you graphics and Canva templates ready for you to download for a "mini" price.
I don't need such a large volume of content.
I love the style of your photography and content, but I don't have the funds it right now.
I
can't afford that rate
for the membership.
…and it left me with an icky feeling. Because… I've been there.
And so "The Mini Membership" was born.
What's inside The Mini Content Membership?
Simple:
? 3 collections of pre-curated lifestyle stock photos (minimum 60)
? 2 collections graphics (minimum 40)
? 1 collection of Canva Templates (minimum 40)
? option to vote for next months' content collections.
Access to a minimum of 140 pieces of fresh content each month for your to choose up to 35 downloads each month.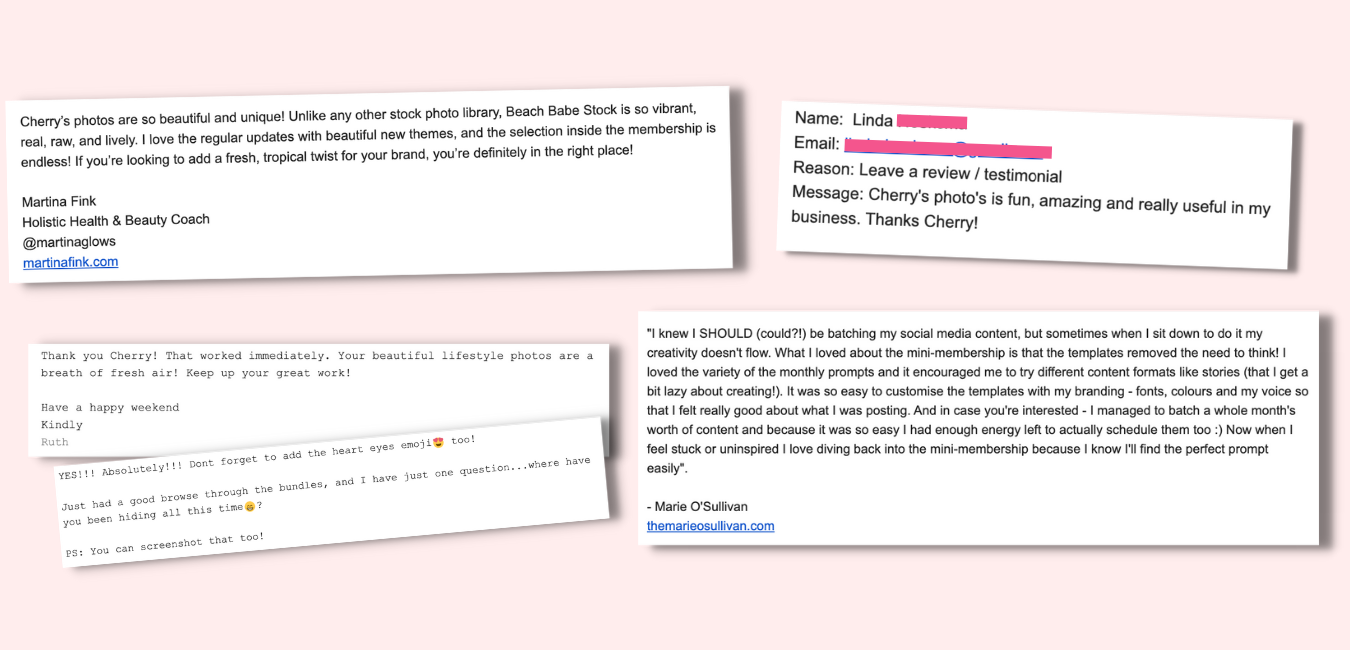 The Mini Membership is perfect for you if…
You're looking for a few fresh new lifestyle stock photos, done-for-you graphics and Canva templates that help make your brand stand out against the online crowd while saving you precious hours, won't overwhelm you and is under $10/month?
You just described the Mini Membership to a T!
??? Get it here ???
Hi, I'm Cherry!
I'm the photographer and creator of Beach Babe Stock. I've made it my mission to help intentional online business owners and entrepreneurs take the first step to feeling less overwhelmed & have more fun creating a business you love, that supports your lifestyle. 
I live in Thailand with said husband?, our two dogs ??, two cats??, and lots of plants????. 
Now, there have been times when I've seriously love, love, LOVED a product/service to the bone, but I just didn't have the money to invest at the time. It left me with real FOMO, knowing it's something that would be so beneficial to the future growth of my business.
I knew I didn't want to leave anyone with that feeling around something I created. I wanted my content membership to be accessible to more people, especially those on a low budget, because I know what that feels like.
And I just want to make more people happy (and more businesses profitable!) with my stock photography and designs. So I created a "mini" version of my full membership and it's called (you guessed it) The Mini Membership.
Where can I see what content is available each month?
Can I use the Mini Membership for my business?
When does the content get refreshed?
During the last week of each month. Usually between 25th and the last day of the month.
Do my leftover downloads rollover into the next month?
No. The 35 download limit refreshes each month on the 1st, so you'll always be limited to 35/month.
Do I have to give credit when using BBS images?
If you've purchased individual images or membership through our site, there is no need to provide credit (although it is much appreciated if you do!), I'd love it if you could tag @beachbabestock.
We also have an affiliate program that you can join and earn 40% for referring other Mini Members. 
What happens when I reach my download limit?
If you're downloading content and reach your limit, you'll simply lose the ability to download until the 1st of the next month when your allowance is refreshed. You can always check your download allowance inside your account settings if needed.
Do you offer a refund?
There are no refunds for the Mini Membership. It's a great low-priced offer if I do say so myself and you either know this is a great fit for you, or not. Sorry not sorry (said in the most loving way possible!). ??‍♀️
What currency do you charge in & what's the cost in my local currency?
We charge in USD, here are some approximate conversions from our monthly membership of 9 USD: 7.8 GBP,  13.25 AUD, 9 EUR, 12.6 SGD, 11.8 CAD, 70.9 HKD
I always check this site for the current rates.
When / how can I cancel my membership?
Anytime you like. It's really easy to cancel right inside your account dashboard. 
Did you know…
THE MINI MEMBERSHIP PLANTS A TREE
EVERY MONTH YOU'RE A MEMBER?
I've always been a strong believer in the importance of the environment as a whole for our planet's longevity… Which is why I decided to plant one tree for every order I receive on my websites early on in my business. It's not much, but it's a start, and I think I'll always feel like there's more I could be doing and giving… but for now, it's what I can.
How do I do this? I set aside $1 from every paid order I receive on my website, big or small (yep, this included the Mini Membership) and plant a tree with it through my partnership with One Tree Planted.
If this feels good and aligned with your beliefs then I'd be even more excited to welcome you as a Mini Member!
Join the Mini Membership now…
And start dowloading this months' content right away.
Each month, the content inside the Mini Membership is refreshed (from our full library)
You'll have access to a minimum of 140 pieces of content each month and be able to pick 35 downloads.